Student Loan Debt Relief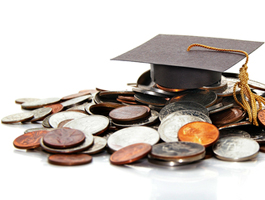 For a number of people seeking student loan debt relief, bankruptcy might seem like the only debt solution. But is it, really?
In general, your student loans will only be discharged in a
personal bankruptcy
in Canada if you have ceased to be a student (full or part time) for at least seven years.
There is a 'hardship' rule that says that a bankrupt with student loans may apply to court to have their student loan debt reduced or discharged after five years. But the flip side of this is that the government can still oppose your bankruptcy discharge for student loans and request that you pay back some or all of your student loan debt.
Student Loan Debt Relief Alternatives
It is worth noting that when it comes to dealing with student loans, bankruptcy is not the only choice. You have a few options.
Negotiate payment terms you can afford
. You could talk to your Canadian and provincial student loans lender (the bank, the government, or the collection agency), and try to work out payment arrangements and get some debt relief. You can also try a
debt consolidation
loan to consolidate your student loan debt with other debts like credit card debt. By lowering your interest cost you may be able to manage your monthly payments and reduce your student loan debt sooner.
File a consumer proposal
. If you do not qualify for a student loan debt consolidation loan, debt relief may be possible by filing a
consumer proposal
. This strategy is particularly successful if you are working and have the ability to pay something, but not the full amount, and only need more time to pay off all of your debts.
Consumer proposals can only be filed by a licensed bankruptcy trustee. Even if your student loan debt is less than 7 years old, you may be able to deal with your other debts, like credit card debt. This will reduce your monthly debt payments making repaying your student loan debt possible.
Bankruptcy
. Your last resort for relief from student loan debt is bankruptcy. However remember, Canadian student loans in bankruptcy are only automatically discharged if they are more than 7 years old.
If you need help with your student loan or other debts — and you want a free, professional assessment of your current financial situation —
contact an expert today
.